Conveniently located along Anonas Street, Sta. Mesa, Manila
Accessible from Cubao and Manila via the Ramon Magsaysay-Pureza route, and from Mandaluyong via the Shaw (Kalentong)-Teresa route.
Less than 30 minutes from major schools and universities, such as Centro Escolar University, Far Eastern University, San Beda College and San Sebastian College
Less than 20 minutes from SM Sta. Mesa, SM Megamall, Star Mall, EDSA-Shangri-La Mall, Puregold Shaw and Puregold Kalentong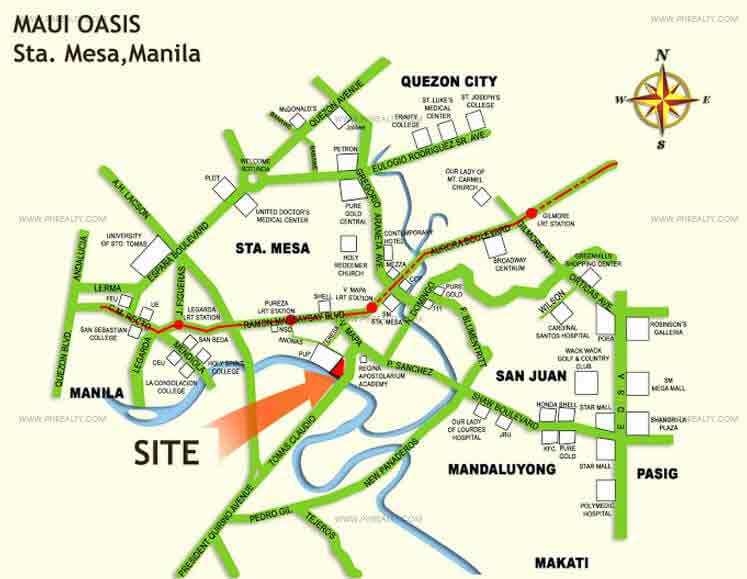 The location is a key deciding factor when it comes to home search. It dictates a lot of things that are very vital for you and your family. That's why every real estate agent or expert will always emphasize the importance of this great factor. Even when you think you have found your dream home, make sure that you do not sacrifice location or overlook it in any way. You might regret later when it's too late to reverse your decision. Many homeowners especially the new, do not give this factor the serious consideration that it deserves. For your information, the location of your home dictates the following vital aspects of living:

• Social interactions
• School choices
• Commute times
• Quality of life
• Security and safety

Maui Oasis gives you the best when it comes to all these very vital aspects. As a new condo in the city of Manila, this residential property is not just safe and has all you need, but it's also located in a safe neighborhood. Once you are here, you will be right to say that you landed at the place you have always wanted to live. The whole area of Manila has what you need to enjoy modern condo living. It's a great environment that natures everyone living there. The best way to have a taste of what it means to live here is to get a unit today. You will have everything within reach. The location of this new condo in Manila is convenient because:

• Major schools and universities and a few minutes from this community
• It's less than 20 minutes from famous malls and shopping centers
• Easily accessible from Manila and Cubao
• The area enjoys top security
• It's conveniently located along the Anonas Street, Sta. Mesa, Manila

Is there anything else you will miss from this area? It's a perfectly chosen location that will transform your living. If you have a home here, you have everything that your family needs. As you know, schools, leisure places, facilities and access to the city are guaranteed. In fact, once you get a home here, you might not need to make any adjustments or think about getting another home elsewhere. If you have lived elsewhere in the past, then you best understand the hassle of traffic jams, insecurity, insufficient space and many other vital things when it comes to living. Maui Oasis is the solution to all these hassles. You need to give it a try and see for yourself.
The quality of life that Maui Oasis Condo gives you is high and will meet your lifestyle needs. It's a quiet and family-friendly environment ideal for everyone wishing to experience what condo living is all about and especially in the city. If you have been searching for a home, then you have finally found one. Don't delay and finally find yourself left out. Maui Oasis is a highly coveted property at the moment because of its location and the quality of units. Most importantly, it's considerably more affordable compared with similar ones in other cities. Indeed, this is a prime investment worth trying now. The value has been increasing and will soon be high.